News reports are coming in from across Azeroth that the Lich King (formerly known as Arthas Menethil) has been assassinated. Although the crime scene is still being investigated, early reports suggest that the assassination was committed by none other than that notorious alliance raiding guild <Molotov>.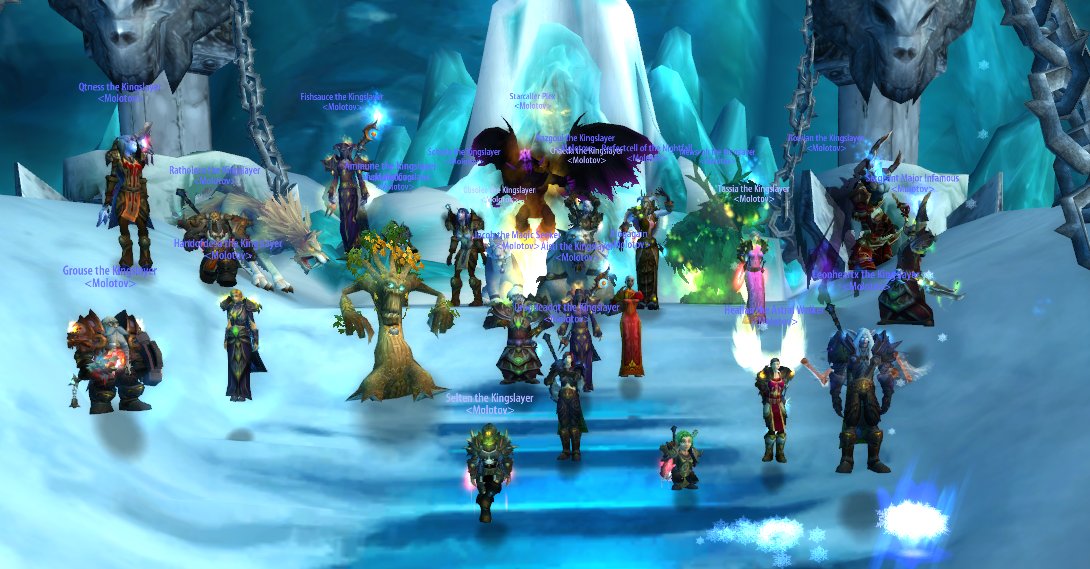 It's strange to think of the Lich King as being beatable, but there it is. He lies dead at our feet, purples falling out of his remains like candy from a child's pinata. I remember long ago playing through Warcraft 3, following Arthas' rise and fall as a Paladin of the Silver Hand and his subsequent rebirth as a Death Knight and ascension to the throne we have just ripped him from. It was that game that introduced me to the Warcraft universe and from there that I found my way to a game that would eventually cause me to kill the very being I built up long ago. I don't mind saying, it did feel a little wrong, but damn was I happy when he one shot the entire raid... Thank **** that was over.
So anyway, it's been a long time coming, and, for our GM, Arthas has been his aim for over four years. The guild killed Cindy-Lou 6 weeks ago, but right from the start Ling-Ling employed every tactic he could to prevent us from gaining headway in this fight. From the constant, large scale DCs on critical people such as the MT and Healers, to the bullcrap of the 2nd valk/defile spawn, we had our fair share of problems.
It really took a long time for people to understand what "STACK THE **** UP" and "DEFILE SOON, GET AWAY" meant, but we got there eventually. I must say from a personal point of view, it's an exceptional encounter and one I'm very happy to have been able to complete...
But what's next?
For a guild that raids as little as we do, getting LK down has been a big achievement for many of us and probably the pinnacle of our raiding so far. But some of us want more so we will start pushing those hard modes and see where it takes us.
So Molotov, now 12/12 starting Hard Modes 25 ICC, LFM Skilled applicants!
-Dropdeadqt