Firstly...

No. No I didn't. But I can see how that is such an
easy
mistake for people to make.
At any rate...
We had just finished up another Chrommie encounter (flawlessly, I like it when that happens), and we stumbled into the upper level of BWL.
You can imagine my relief to find an old friend sitting there!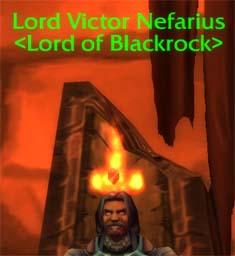 Lord Victor! What a champ!
I mean, hell, I was as surprised as you would be now to find out he was actually the tyrannical, 100 foot long, dragon ruler of Blackwing Lair.
I just assumed the levitating fiery crown was, you know, early Christmas preparation or something.
So... first attempt at Nef was going smoothly until phase 2, when our idiot maintank just outright died... apparently he'd somehow unequipped his Onyxia Cloak... you know, the one that is
absolutely essential for this encounter, especially for the main tank
. Pft, if you ever see him on the LFG channel, /ignore Cartollomew, what a
rubbish
tank.
We somehow managed to overcome the remarkable ineptitude of our MT and downed Nef in 3 attempts (counting the first attempt, which was doomed from the start, and kinda funny in retrospect).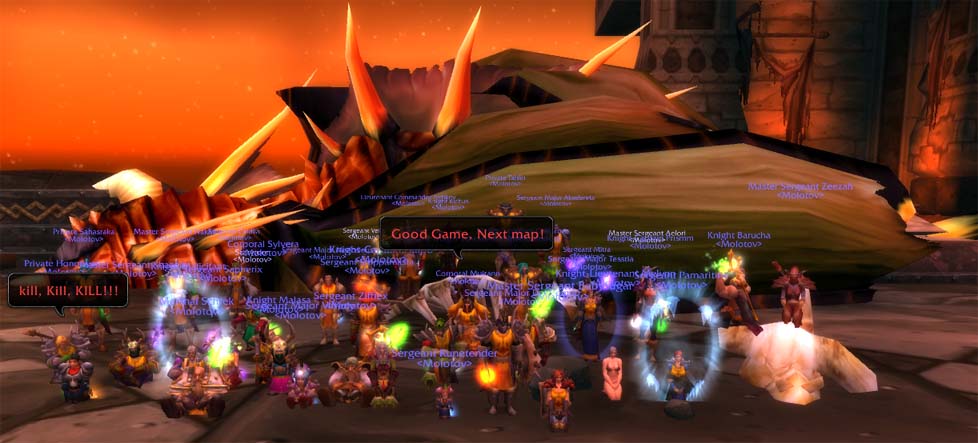 He did not drop druid or warlock loot, proving he is either hideously unfashionable amongst bosses, or just a trendsetter (we're hoping for the latter. Well, the druids aren't).
Just a few things before I wrap up: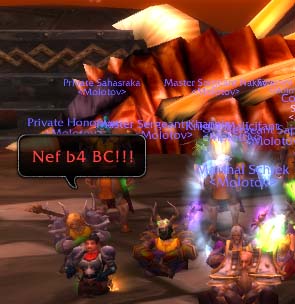 Yeh, you like that? Yeh, you like that.

What, question marks? Like you don't believe it will happen?
Well, at least you can't accuse us of aiming low.
We shout a lot of things during screenshots. This is because the person taking the screenshots is clearly an imbecile and it is
simply unthinkable
that whatever rubbish you shout out will be somehow excluded from the front page.

Sometimes it's not rubbish...

Modest? Oblivious?
We may never know.
Finally:

Why waste time? Farming NR gear began last week, we'll need to do a poll on who has Naxx attunement too...
-Cart