Well it had to happen eventually. After 3 weeks of bad Monday attendance we managed to pull a full raid for once. This week we were going to turn it around. The raid was pumped but the doubts still lingered... like a bad smell in the toilet after a long night of beer and pizza with some strangers you met in a bar. The clock was still against us with people posting they would be late and others that they had to leave early. We started up with a quick slap and tickle on council to drag out the time for the raid to solidify, and then it was time to go. Yogg awaited
After some words of advice were tossed around on the forums, we dropped our healing line-up to 4 and stuck with the tried and tested 3 tanks. As is always the case, the groove was not in place and at the end of phase 1; we had 7 Guardians up... CUT YOU DUMB ****'s. Round 2 found that groove again as we reached P2 with a single guardian up; dispatched in short order. Phase 2 showed signs of improvement with much shorter durations of tentacle rape for the people left up top. DPS was starting to focus on the tasks at hand and it was looking good aside from a number of nubups. Progress was happening.
A 3rd attempt saw us pushing hard towards the end of phase 2. It felt good.
Then a Molotov happened.
A double fault of attempts with abysmal Phase 1 failure... YOU @!$#ING STUPID **!@*(!@$%!*&(%!&(%&!(*@%!.
The swift verbal beating chastened and then solidified the raider's spirits, steeling them for a fantastic attempt afterwards. Phase 1 blew by; Phase 2 was almost a complete success. Then Phase 3 happened...
Wait... We didn't explain Phase 3 at all... SHIMATA!!!
In an amazing and strange occurrence, Nora actually thought that... maybe they read the strat... did they... no they couldn't... but... it's happening... adds tanked... dying... boss DPS... sanity refills... what on earth was going on!?!?!??!
In an amazing back flip in guild standards, people either gained the ability to read a fight and understand the mechanics almost instantly or a number of people I thought were illiterate actually managed to read a strat!
4% before 3 healers got popped off due to a random add wanting a healer fisting. The wipe happened but not before the guild realized. Hey... We can do this!!!
Midi: Sorry guys, 5am start, gotta go. *$@%!
The obviously sane answer to this was "get another tank". But we don't really do things conventionally... (actually we didn't really have anything else we could take...) MOAR DPS. 4 healers, 2 Tanks, 19 DPS.
Yogg died next pull. Molotov goes to 13/14.
Congratulations guys and gals. An amazing effort and fantastic work. Time to head towards Algalon.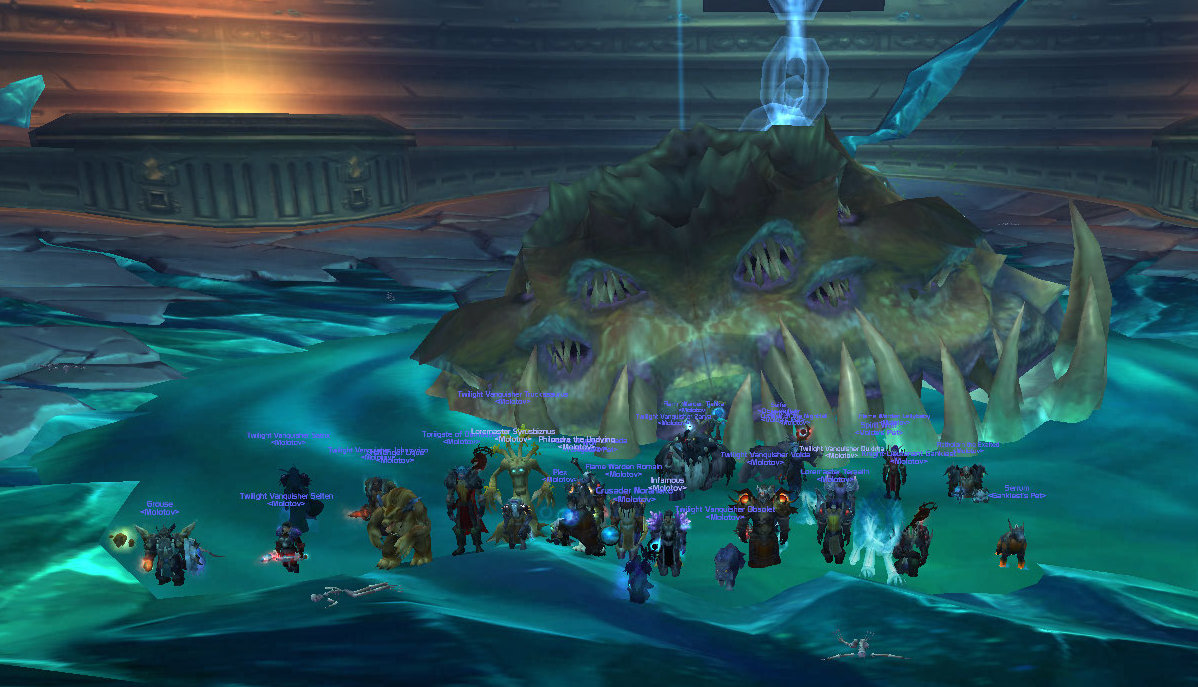 You know, It looks almost identical to the 10man kill but with an extra 15 nublets...