Wow.. we... one shot her.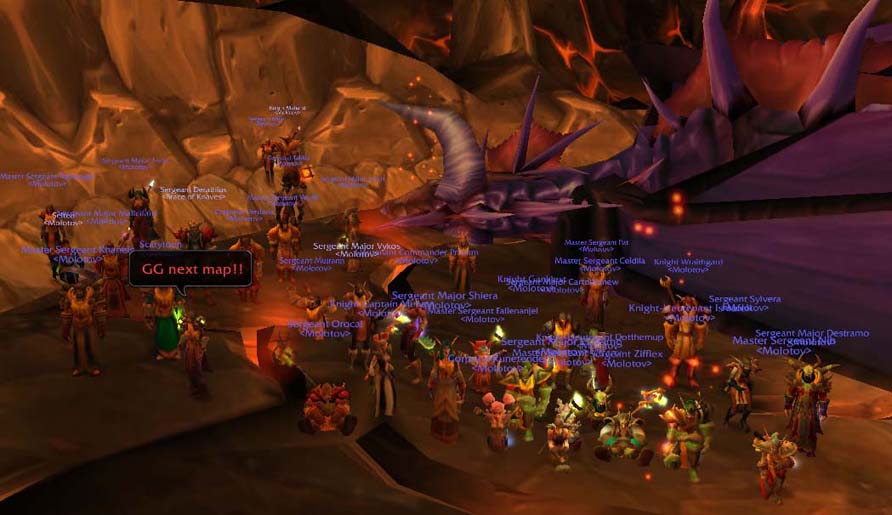 But it's not quite as simple as that...
You see, most of us were pretty excited; a lot of the guild had never even been in Ony's lair before, let alone see her die. Some people finished their attunements the very day of the raid. We were tingling with anticipation.
Not least of all was me, since I'd sure as hell never tanked the wench before.
I was just getting comfortable, building up a little threat, and around 15 seconds into the fight, can't help but notice an eerie silence on vent.
And a priest running off into the distance.
Crap, disconnected. This
NEVER
happens to me.
I spent the better part of a minute disconnected entirely from the net (all the while cursing iiNet) and when I finally got back onto Ventrilo I'm greeted with "Hey Cart... you're still alive."
Wraith had taken over tanking Ony (in his DPS gear no less: nice work) and I was spared the indignity of being solely responsible for our guild's first Onyxia wipe by being able to take aggro on her again.
From there it was fairly straightforward, got her to phase 2, she did the flying thing, she took a deepbreath and a good number of the raid died.
Okay, fine, we'll need to run faster next time, but we had enough left to carry on with, why not keep going?
Start of phase 3 and I (eventually) manage to get aggro back and position her, we're doing okay; our sole dwarf priest is terribly overworked (much love to Zif!) and it actually looks as though we'll get her!
On our first attempt!
That was when I died.
And so did all our healers.
At ~5% health, Celdila took over tanking (again, in DPS gear... with no healing) and successfully held Ony until around the 1% mark.
Ony's health was sitting on 10K and just wouldn't drop on my display... I could see rogues stab-stabbing away, but nothing was changing.
The DPS did some aggro swapping (and dying, for that matter) and suddenly...
*You are now saved to this instance*
3 DPS classes (no tanks or healing) brought down Onyxia.
And was there a soulstone up? Maybe someone had some jumper cables?
No dice. I'm not actually sure how we got a resser into Ony's room, but nevertheless, we were back up in no time and as a testament to <Molotov>'s resolve and preparation we had a dead dragon, some mighty fine loot and hunter deep in negative DKP in one attempt.
As an aside, Selten wins the rogue T2 helm, prompting this warrior discussion over the next <Molotov> boss challenge (you'll remember
Prismm downed Vella
in a spectacular effort in ZG):

Selten is a pain to tank, actually. He goes straight for the healers.
Majordomo seemed almost anticlimactic by comparison... but he's dead too. He disappeared before we could assemble for a photo opp, so rather than give you a photo of us with a
chest of goodies
(booooring) I give you this: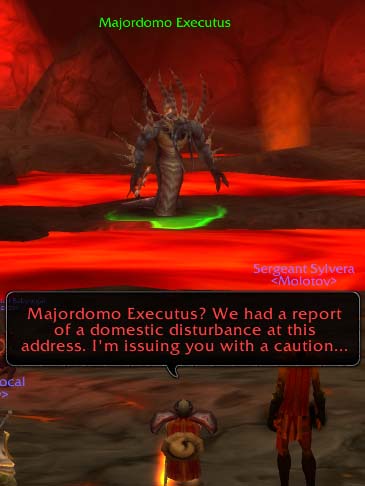 Ragnaros is next in our line of fire.
-Cart
PS
Ossirian is harder than anything we've encountered so far. What gives?
He'll die soon too, though.