23 minutes.
Twenty three minutes is enough time to watch your favourite sit-com with no commercials.
Twenty three minutes is enough time to realise your blind date is a disaster and to plan an escape.
Twenty three minutes is enough time to listen to just one of The Doors' songs.
Twenty three minutes is enough time to get out of bed, call in sick for work, and log onto WoW(or is it only me who does this?).
Twenty three minutes is how long it takes to defeat Kael'thas Sunstrider, Lord of the Blood Elves.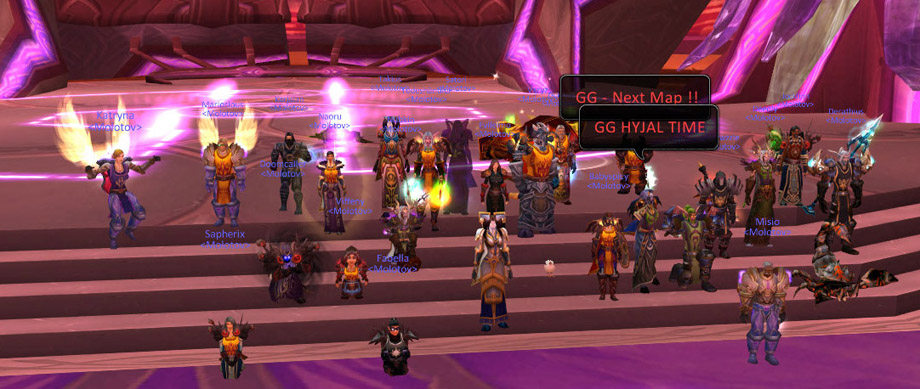 Our Paladins are on a natural high. I swear!!
At this point in the blog i could either ramble on about the boss, or I could stroke our epeen for managing to down him.....no way, let's jump straight to the bloopers:
Well, maybe not so natural. Lol wut? Misio woos us with his sweet nothings.
- We gave our ranged Dps a Braveheart style speech to turn them into blood thirsty barbarians. First target to nuke down was the Nethershard Longbow. Sometime during phase 1, one of the raid members got bored and decided to bring out their Nether Dragon Whelp. "Trinkets- Go!", "Drums- Go!", we all hit our macros to target the bow, and got stuck targeting the god damned pet.
- "If you die to Thaladred in phase 1, you aren't paying enough attention and are letting your raid mates down". The next two people to die to Thaladred were the two raid leaders.
- Does anyone else feel that a flamestrike that hits for 120,000 damage is just a little bit over the top? It takes 13K damage to kill me. It takes about 30K damage to ensure a tank is one shot. Seems like the other 90K damage just rubs salt into the wound that you were a nub and didn't move in time. Not that that has ever happened to me....or our main tank, when kael was at 2%, preposterous!
- 2 players DCing deep in phase 5. Kael'thas is under control with 19 members still alive. 2 Dps disconnect. Fortunately we managed to deal with the little curve ball the server threw at us.
I think it's rather telling that <Molotov> learned the fight over 5 nights with a total of about 28 players. It's a testament to our raiders skill and determination that everyone was capable of dealing with everything this fight threw at us over 5 phases, and kept coming back night after night for more. It also speaks volumes about our masochistic tendencies and i think we should all seek professional help immediately.
Along with Vashj, this downing was the only fight in the TBC that really meant something to us, and the release from the raid when we achieved victory was something memorable.
An epic boss requires an epic post, so I'll will continue to ramble just a wee bit more.
We collected the second Vial of Eternity at long last. We headed off to Tanaris to pay a visit to Soridormi. We collected the 26G. I think she caught the look of pure wrath in our battle weary eyes and decided to be a little more generous in rewarding us for our troubles. New shiny epic rings all around!
We entered the Mount Hyjal instance. In typical Molotov style a lot of our members decided to wall jump into the Horde zone-in rather then using the orthodox entrance.
First impression- Beautiful zone.
Second impression- The trash makes me want to curl up in the fetal position under a cold shower with my thumb in my mouth. It's not overly difficult, just incredibly.....tedious.
In what could be almost seen as an apology from Blizzard for the Kael'thas encounter, Rage Winterchill is a rather simple fight. This is a good thing because i think most of us are ready to climb a clock tower with a rifle if we see anymore marathon encounters anytime soon.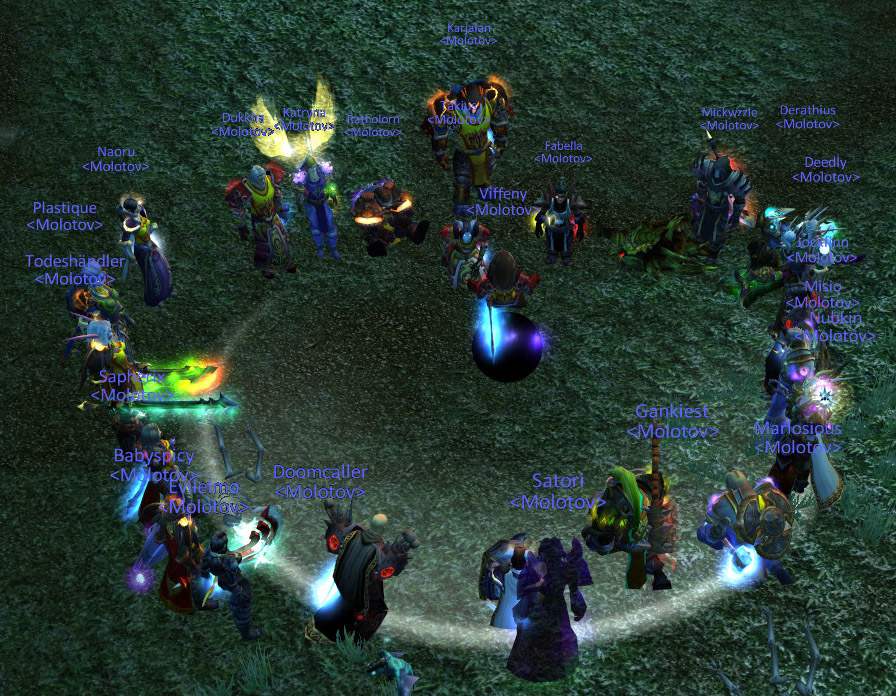 Omg! The Gnome is sitting on the Lich!
Do as I say, not as I do. Guild Master comes to progression raids unprepared.
Whenever we down an epic encounter, I always feel it's worthwhile to take the time to thank our raid team for their skill, their dedication, their patience, and their enthusiasm. Thanks guys.
I'll leave you with this little gem from one of our Vashj fights-
It ated the core!!!
Plenty more updates to come shortly.
Sapherix.