A lot has happened since the last forum update. We said goodbye to our old server community of 12 months, and some of our founding members. We said Hello to a new, much more thriving raid community, and some fresh faces.
We started raiding again last reset. We just dipped our toes in, only cleaning up Maulgar/Gruul/Mags. This reset, we jumped right into the deep end, clearing through all of the old farm content and got back into progression raids.
We knew Al'ar would be our first boss killed on Aman'Thul. It was up to us as to when that would happen. Did we have that old fashioned desire to stand over a freshly killed raid boss with our fellow raiders and yell that old war cry "GG NEXT MAP!!"?
It didn't take long to find out the answer.
We had never pulled Al'ar before. We'd made tab target jokes as we passed by him to Void Reaver, but that was about it. Tonight was one of those nights where everyone was focused on the job, and victory was inevitable. I'd like to say it was an epic battle, and tears were shed, tempers frayed.....but really, we downed him on the 5th pull, unflasked.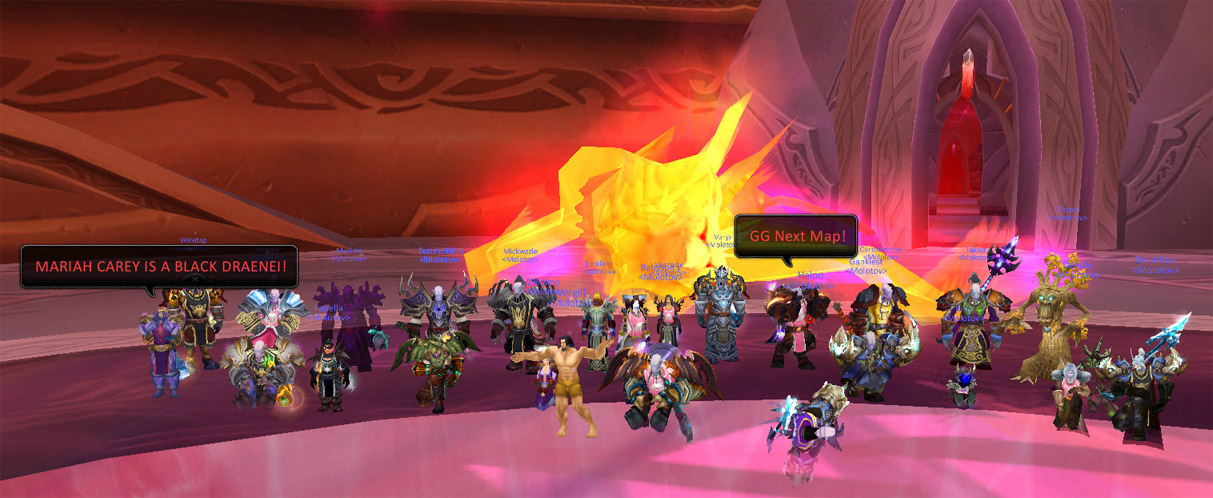 First and last screenie you'll see with Molotov members in a pink tabard.
The brand new Molotov really delivers, excellent work guys.
For the record, a good portion of our guild appears to have developed an obsession with Mariah Carey. Not the washed up pop singer, the Draenei Warrior! On vent, i hear random conversations about this mysterious female warrior. She has become a deity to us and we foresee her leading Molotov through BT and beyond.
What else have we been up to?
Well, we downed Cairne Bloodhoof as a parting /salute to Khaz.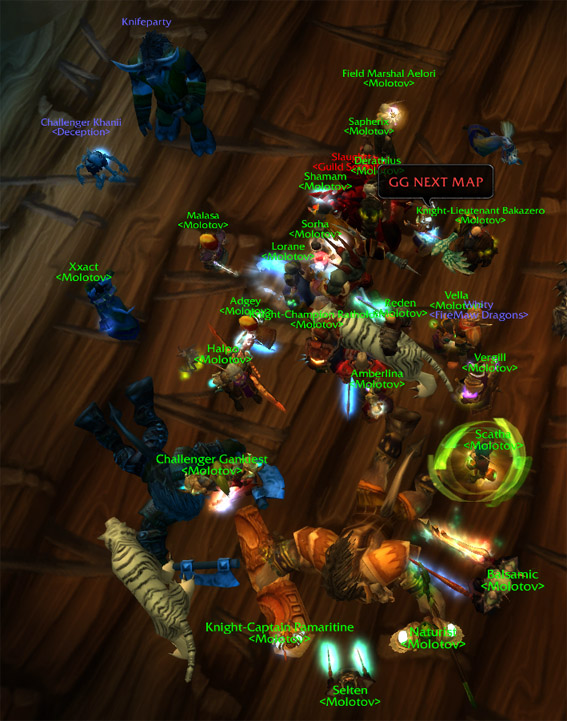 <Molotov> moos at Cairne Bloodhoof. Moooooooo.
We had a Molotov royal rumble. All on all in the STV arena. We concluded that healing is overpowered in an anarchic environment. 5 heal spec'd toons stood victorious, none able to kill the other.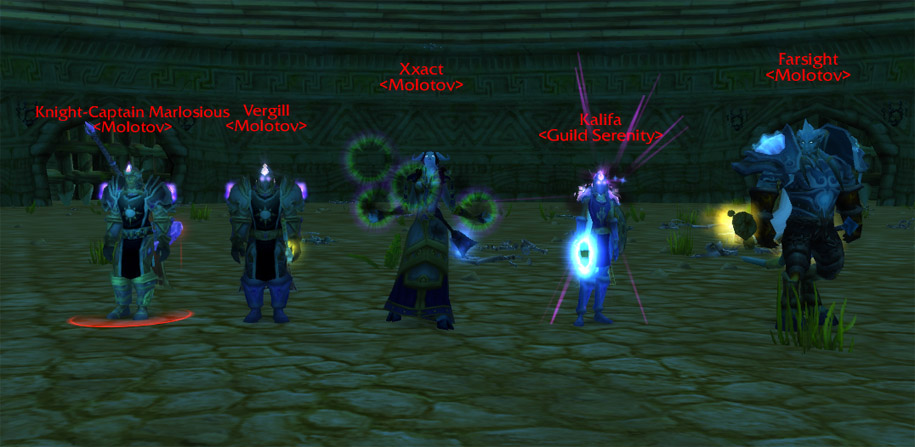 A lot of hard work goes into a raiding guild behind the scenes. Lots of time spent organising, scrutinising, problem solving, people management and so forth. Its not all fun and games, or is it? Some random musings from officer chat from our first week on AT.
We had a warrior apply to the guild whose name was Homunkulus. This name was trouble for most of us, but here is our warrior class leader's Feux pas-
Whilst we spent our first week on Aman'Thul rebuilding and not raiding, the officers got very bored. When we don't raid, your officers just become downright weird.
Molotov raids are full of fun, sunshine, love, kisses, and puppies. Why wouldn't you want to raid with us?
We are still looking to add a couple of raiders to our team to fill out our ranks. Apply within!
Sorry Elmo >< No random acts of revenge please, I'm a sensitive mayflower.
Thus ends the first progression post for Molotov on Aman'Thul.
Thanks,
Sapherix